Skip to Content
Equipment Sales for Alamance County, NC Contractors
First Source Equipment Rental Mebane Facility is the leader in providing outstanding equipment sales to Alamance County, NC. We have a constantly increasing inventory at our two locations, ensuring contractors have access to what they need to complete jobs on time. From augers to heavy equipment, our team has you covered. We are always upgrading our equipment to ensure our customers receive the best of the best, and our customer service team is always looking for ways to enhance our valued contractor's experience. At our company, you matter. To discover why you're more than a number, get in touch with our team.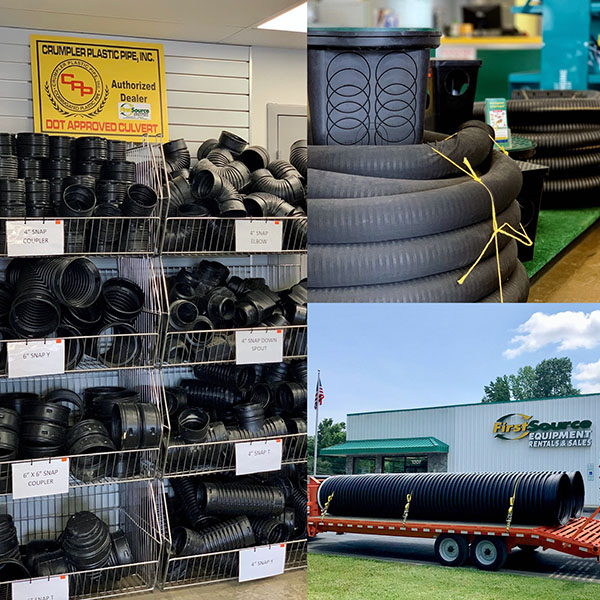 We Are Dedicated to Four Core Values
We are successful because we operate under clear core values. We show our dedication to accountability by being efficient, respecting all people, and providing top-notch customer service. We pride ourselves on solving problems and do so by using our brainpower and winning mindset. As a locally-owned company, we can emphasis community, trustworthiness, and longevity all while remaining one of the most safety-conscious companies in the area.
We Represent the Most Popular and Trusted Brands
Our team strives to provide you with everything you need to serve your clients. We know how important quality is to you – it matters to us too. That's why we work tirelessly to maintain an inventory that gives you both choices and quality. Some of our most popular brands include:
Airman
BIL-JAX®
Bomag
Crumpler Pipe
Doosan
Dri-Eaz
FINN®
Genie®
HAMM
Husqvarna®
JLG®
John Deere®
Kato
Makita®
Marshalltown®
SteelPoint
Stinger
Toro®
Tsurumi®
Vermeer®
Virginia Abrasives®
We Build Relationships One Customer at a Time
Our customers know they can trust us to build solid relationships with them. We don't have past customers. Instead, we our customers routinely return to us for all their equipment needs, knowing they will receive premium products with outstanding, after-hours customer support. If you are on a job and your auger breaks down, visit one of our locations. We'll have you up and running in no time.
Need Equipment for Your Next Project? Call Us Today!